XPT-7 polarization microscope is the required instrument to study crystals with
birefringence property. It is used in geological, chemical engineering, textile and medical institutions to analyze the optical properties of rocks, crystals and fibers. Besides, it can be used in colleges or universities for instruction or experiments.

This illumination of this microscope adopts natural light or other external light sources, therefore especially applicable for open country operations. Besides, this product can be equipped with artificial illumination and microscopic photographic kit to record and store optical images.
Item
Specification
XPT-7
Main body
○
Stressless Achromatic Object Lens
4X/0.10
○
10X/0.25
○
25X/0.40
○
40X/0.65(Cushioned)
○
63X/0.85(Cushioned)
○
Ocular
5X Cross Hair
○
10X Cross Hair
○

10X Reticule (Minimum Reading 0.1mm)
○
Reflector
○
Complementer
Gyps 1λ
○
Mica 1/4λ
○
Quartz Wedge
○
Micro-Scale
0.01mm
○
Color Filter
Blue
○

Ocular Gridding
0.2mm
○
Optional Accessories

Artificial Illumination Light Source

Lamp House (With Bulb)
220V/0-6V Transformer

Spare Light Bulb(6V15W)
Microscopic Photographic Instrument

Main Body

Photographic Ocular 4X
Photographic Ocular 6.4X
Shutter Release
Interface

Camera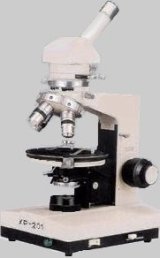 XP-201 transmitted polarization microscope is a professional experimental instrument commonly used in geological, mineral and metallurgical institutions and relevant colleges. With the progress of optical technology in recent years, the application range of polarization microscope as an optical instrument has become wider, including such industries as chemical fiber, semicoductor and medicine inspection etc. Ttransmitted polarization microscope is very suitable for single polarization,othorgonal polarization, conoscopic observation and micro-photography. Equipped with gyps λboard, mica λ/4 board, quartz wedge and mechnical stages, this microscope is a new product with comparatively complete functions and fine quality.
Magnification: 40x-630x

Can store optical images.
Item
Specification
XP-201
Main Body
○

Stressless Achromatic Object Lens
4X/0.1
○
10X/0.25
○
25X/0.40
○
40X/0.65 Spring
○
63X/0.85 Spring
○
Ocular
10X (Cross Hair)
○
10X (Reticule)
○
Complementer

Gyps 1λ
○

Mica 1/4λ
○

Quartz Wedge
○
Micrometer
0.01mm
○
Color Filter
Blue
○
Scale with Mount
○
Movable Ruler
Range of Movement 30mm×40mm
○
Drawtube
Monocular
○